Germany-based Aerodata AG as well as South Africa-based Milkor (Pty) Ltd and its Polish group company Milkor Polska Sp. z o.o. have signed a Memorandum of Understanding (MoU) in the field of unmanned airborne maritime surveillance.
The partnership between the German provider of special mission solutions and the South African / European provider of defense solutions for air, land, and sea was formalized during this year's prestigious Paris Air Show and marks a significant milestone in the advancement of airborne surveillance technologies.


Under this strategic alliance, Aerodata, known for its cutting-edge mission system and airborne sensor technology, will complement Milkor's brand-new unmanned airborne system Milkor 380. This collaborative effort aims to migrate general maritime surveillance operations from the manned to the unmanned domain.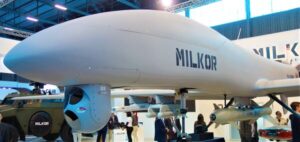 About Milkor 380 UAV:
The Milkor 380 is a multirole unmanned aerial vehicle (UAV) designed & developed by the South African defense company, Milkor. Milkor 380 is designed to conduct a diverse range of operations including surveillance, reconnaissance, and precision strikes. This UAV has a flying endurance of 35 hours and can fly up to an altitude of 30,000 feet. This UAV has 5 hardpoints and can carry a weapon load of 210 kilograms.